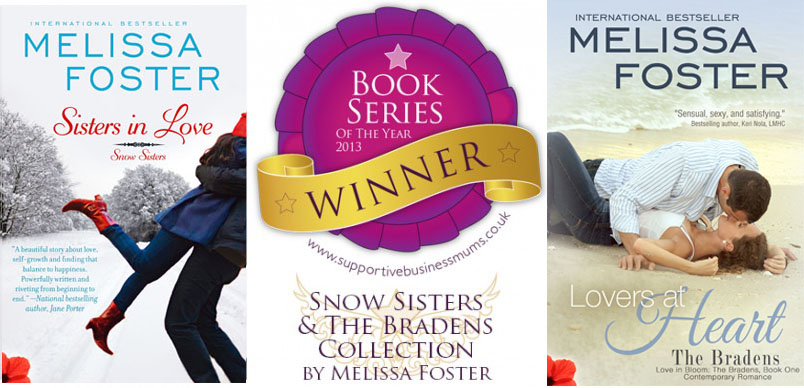 For the most enjoyment, read the Snow Sisters in series order.
The Bradens follow the Snow Sisters and include characters from the series.
 While the Love in Bloom series can be read as stand alone romances, for even more enjoyment read them in series order following the Snow Sisters.
Amazon, Barnes & Noble, iTunes, Smashwords
To read more about the SNOW SISTERS, read THE BRADENS NEXT!
  "A beautiful story about love and self-growth and finding that balance to happiness. Powerfully written and riveting from beginning to end." 
National bestselling author, Jane Porter (on SISTERS IN LOVE)
"Steamy, passionate, and revealing. Perfect for readers of romances and stories about motivations and impulses that lead to emotional transitions." 
Diane Donovan, Midwest Book Review (on SISTERS IN LOVE)
"If you are expecting a series of miscommunications and drama before the big payoff, this is not the story for you, for this is the tale of true grown up love." 
Natasha Jackson, Readers' Favorite (on SISTERS IN LOVE)
"A beautiful story about love and self-growth and finding that balance to happiness. Powerfully written and riveting from beginning to end."  National bestselling author, Jane Porter (on SISTERS IN LOVE)
"[The Bradens] A sinfully sexy and heartwarming series," Bestselling author, Amy Manemann
"Contemporary romance at its hottest. Each Braden sibling left me craving the next. Sensual, sexy, and satisfying, the Braden series is a captivating blend of the dance between lust, love, and life."
Bestselling author, Keri Nola, Psychotherapist (on THE BRADENS)
See Full Love in Bloom Series